News
The Spring 2016 National Council of NASA Space Grant Directors' Meeting was held at the Westin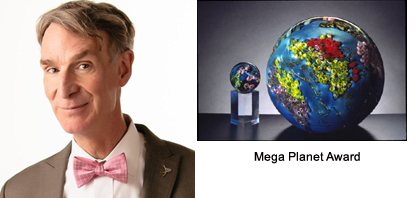 Crystal City Hotel, Arlington VA, on  March 3-5.
The National Space Grant Distinguished Service Award 2016 recipient was Dr. Bill Nye.  Dr. Nye accepted the award in person on the evening of Friday, March 4, 2016.
Meeting website:
http://national.spacegrant.org/2016SpringNational/index.html
25 Years of Space Grant Excellence
Virginia Space Grant Director, Mary Sandy, was honored at the Virginia Air and Space Center in Hampton, Virginia on December 7, 2015, for 25 years of Space Grant excellence. View the YouTube picture-video of the event below.