THE NATIONAL SPACE GRANT DISTINGUISHED SERVICE AWARD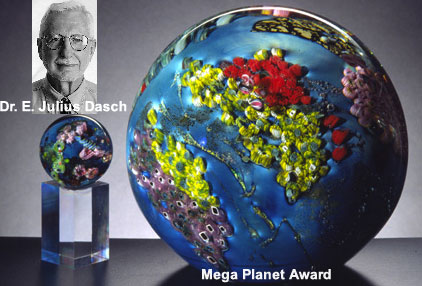 The NASA Space Grant community is very pleased to announce that Dr. E. Julius Dasch has been selected to be the recipient of the 2013 National Space Grant Distinguished Service Award.
Dr. Dasch will be accepting the award in person. The award ceremony will take place in the Ballroom at The Sheraton Crystal City Hotel in Arlington, VA, on the evening of Friday, March 1, 2013. The opening reception will begin at 6:30 PM, followed by dinner at 7:45 PM. The award ceremony will commence at 9:00 PM.
This event is open to the general public. To purchase individual tickets, or to sponsor a corporate table, please contact Eric Day at (202) 885-2755.
About the Distinguished Service award
The National Space Grant Distinguished Service Award was established to recognize individuals whose life and career have had a long lasting impact in a science, engineering or education field that is related to aeronautic, aviation, or space endeavors. The inaugural award was presented in 2003 to former Senator and Secretary of the Treasury Lloyd M. Bentsen for his visionary work in creating the National Space Grant College and Fellowship Act.
Past Recipients of the Distinguished Service Award
Lloyd Bentsen, James Van Allen, Peter Diamantis, John Glenn, John Young,
Leon Lederman, Vera Rubin, Neil deGrasse Tyson and Sally Ride.
About Dr. E. Julius Dasch
Dr. Dasch has served as Program Manager for the NASA National Space Grant and EPSCoR programs at NASA Headquarters in Washington, DC. His more than 150 publications are in Marine Geochemistry, Geochronology (terrestrial and lunar rocks and meteorites) and science education.

In addition to a Fulbright Fellowship Award, he has served as chairman of the Geological Society of America (Cordilleran Section), President of the Oregon Academy of Science, and is a recipient of the Burlington Northern Faculty Fellowship for Teaching.

He has received the International Astronautical Federation Frank J. Malina Medal for Space Education in Beijing, China. He is a Distinguished Alumnus of Sul Ross State University.
About the Mega Planet Award
Learn about Master Glass Artist, Josh Simpson, in the PBS video below: