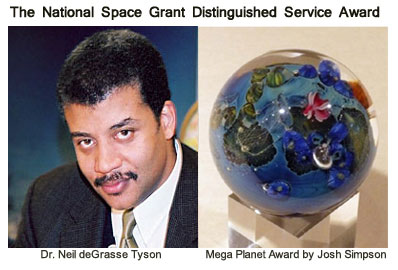 The NASA Space Grant community is very pleased to announce that Dr. Neil deGrasse Tyson has been selected to be the recipient of the 2011 National Space Grant Distinguished Service Award.
Dr. Tyson will be accepting the award in person. The award ceremony will take place in the Ballroom at the Sheraton Crystal City Hotel in Arlington, VA on the evening of Friday, March 4, 2011. The opening reception will commence at 6:30 PM, followed by dinner at 7:45 PM. The award ceremony will conclude at 10:00 PM.
To purchase individual tickets, or to sponsor a corporate table, please contact Eric Day at (202) 885-2755.
About the Distinguished Service award
The National Space Grant Distinguished Service Award was established to recognize individuals whose life and career have had a long lasting impact in a science, engineering or education field that is related to aeronautic, aviation, or space endeavors.
The inaugural award was presented in 2003 to former Senator and Secretary of the Treasury Lloyd M. Bentsen for his visionary work in creating the National Space Grant College and Fellowship Act.
Past Recipients of the Distinguished Service Award



(L- R) Lloyd Bentsen, James Van Allen, Peter Diamandis, John Glenn, John Young,
Leon Lederman and Vera Rubin.
About Dr. Neil deGrasse Tyson
A childhood glimpse of the Moon through binoculars helped steer Neil deGrasse Tyson towards his lifelong passion for science, space exploration, and unraveling the universe's far flung mysteries. Eventually, that closer look at another world also led Tyson to his role on The Planetary Society's Board of Directors, serving first as Vice President for three years and now as Chairman of the Board.
An astrophysicist with the American Museum of Natural History and the Frederick P. Rose Director of the Hayden Planetarium, Tyson remains close to his hometown roots in New York City where he graduated from the Bronx High School of Science. Tyson earned his BA in Physics from Harvard and his PhD in Astrophysics from Columbia.
While Tyson has focused his early research primarily on stellar evolution and galactic structure, he has also devoted considerable energy to educating the public. Tyson recently hosted the four-part television series Origins on PBS and has written numerous books on the universe and humanity's place within it, including his own memoir, The Sky is Not the Limit: Adventures of an Urban Astrophysicist. Tyson is also a monthly essayist for Natural History magazine with the column, "Universe."
Tyson's professional research interests include star formation, exploding stars, dwarf galaxies, and the structure of our Milky Way, working with data from the Hubble Space Telescope, as well as from telescopes in California, New Mexico, Arizona, and the Andes Mountains of Chile.
In 2001, President George W. Bush appointed Tyson to serve on a 12-member commission that studied the Future of the US Aerospace Industry. The final report was published in 2002 and contained recommendations (for Congress and for the major agencies of the government) that would promote a thriving future of transportation, space exploration, and national security.
In 2004, Tyson was once again appointed by President Bush to serve on a commission, this time focusing on the Implementation of the United States Space Exploration Policy, dubbed the "Moon, Mars, and Beyond" commission.
A man of many parts, Tyson not only has had an asteroid named after him – 13123 Tyson – but also was voted the Sexiest Astrophysicist Alive by People magazine in 2000!
Awards
2001 Medal of Excellence, Columbia University, New York City
2004 NASA Distinguished Public Service Medal
2007 Klopsteg Memorial Award winner
2009 Douglas S. Morrow Public Outreach Award from the Space Foundation for significant contributions to public awareness of space programs.
2009 Isaac Asimov award from the American Humanist Association
Selected Honorary Doctorates
1997 York College, City University of New York
2000 Ramapo College, Mahwah, New Jersey
2000 Dominican College, Orangeburg, New York
2001 University of Richmond, Richmond, Virginia
2002 Bloomfield College, Bloomfield, New Jersey
2003 Northeastern University, Boston, Massachusetts
2004 City University of New York, College of Staten Island
2006 Pace University, New York City
2007 Williams College, Williamstown, Massachusetts
2008 University of Pennsylvania, Philadelphia, Pennsylvania
2010 University of Alabama in Huntsville, Huntsville, Alabama
2010 Rensselaer Polytechnic Institute, Troy, New York
2010 Eastern Connecticut State University, Willimantic, Connecticut
Honors
2000 Sexiest Astrophysicist Alive, People Magazine
2001 Asteroid named: 13123 Tyson, renamed from Asteroid 1994KA by the International Astronomical Union.
2001 The Tech 100, voted by editors of Crain's Magazine to be among the 100 most influential technology leaders in New York.
2004 50 Most Important African-Americans in Research Science.
2007 Harvard 100: Most Influential Harvard Alumni Magazine, Cambridge, Massachusetts.
2007 The Time 100, voted by the Editors of Time Magazine as one of the 100 most influential people in the world.
2008 Discover Magazine selected him one of the 50 Best Brains in Science

Flashback - The Charlie Rose Show
July 9, 1997 - A conversation with Dr. Richard Berendzen (Director, DC Space Grant Consortium) and astrophysicist Neil deGrasse Tyson about NASA's trip to Mars and the significance of analyzing the planet's rock samples.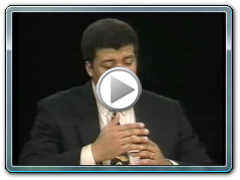 Video jQuery by VideoLightBox.com v1.10
About the Mega Planet Award
Learn about Master Glass Artist, Josh Simpson, in the PBS video below:
Distinguished Service Award Event Musicians - The Strolling Strings


"The Strolling Strings literally surround an event with music, creating an entertaining atmosphere that compliments the festive occasion".
To learn more about the Strolling Strings, please visit their website.


Distinguished Service Award Event Photographer
We are pleased to announce that Ms. Leone Thierman, of the Nevada Space Grant Consortium
, will be photographing the event for us this year.